Candy Bennici & Taran Noah Smith Talk Child Acting
And New Book Stardom Happens
By Art Eddy – Life of Dad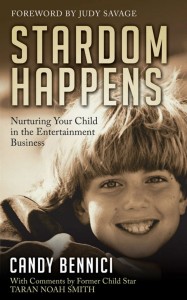 Stardom Happens: Nurturing Your Child in the Entertainment Business by Candy Bennici with contributions from Taran Noah Smith explains to parents how to help their children succeed through acting and what it is like to have a child actor in the family. Bennici expertly weaves her personal experience with valuable lessons that everyone can use.
Raising a child is confusing enough, let alone adding auditions, agents, paparazzi, and life on a set. As the mother of two children who modeled and acted, Candy Bennici knows how to navigate this complex world of child acting. Through Stardom Happens, Bennici uses her knowledge to help other parents learn how to manage and help their child actors. Her son, Taran, comments throughout the book, giving readers his experience with child acting and his perspective for helping other children succeed.
Divided into three sections, Bennici walks parents through all steps of the complicated acting process. She guides them in getting to and through the audition process. Humorously explaining the difficulties and the triumphs that she faced with her children, Bennici connects with her readers, giving them motivation to keep going.
Stardom Happens sees families through to the end. Stepping away from a set can be just as difficult as stepping on to it, especially for children who cannot remember life without it. Stardom Happens provides an entertaining and enlightening read for all parents of young entertainers.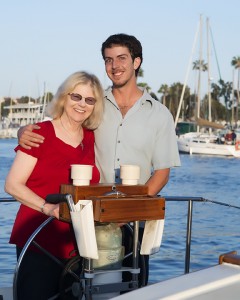 With both of her children in the entertainment industry, Candy Bennici spent eighteen years as a manager. Her daughter, Aria Smith, was an international model, and her son, Taran Noah Smith, played "Mark," the youngest son on the hit show Home Improvement for the eight years it was on television. Using this experience, Bennici's main goal is helping parents care for their children while acting or modeling and has been on several talk shows including Jim J. and Ann and Caryl & Marilyn: Real Friends. Bennici has also worked as a script supervisor for feature films and as an elementary school teacher. She currently lives on a sailboat in San Rafael, California, with her husband, David, and her dog, Sprite, and enjoys being "Grami" to her two wonderful grandsons.
I talk with Candy and Taran about the book and their experience in the entertainment business.
You can get the book at stardomhappens.com and go to Communitere.org to see the good work that Taran is doing to help out different communities.